I went to Jinya Ramen Bar with a friend who really enjoyed the food there. She was new to the ramen world so I was hesitant to see what she considered good ramen. Considering that it had ramen in the name of the restaurant, I assumed that ramen was their main focus, which is usually a good sign. I was excited to try a new potential ramen hot spot. Jinya ramen is open everyday from 11am to 10pm.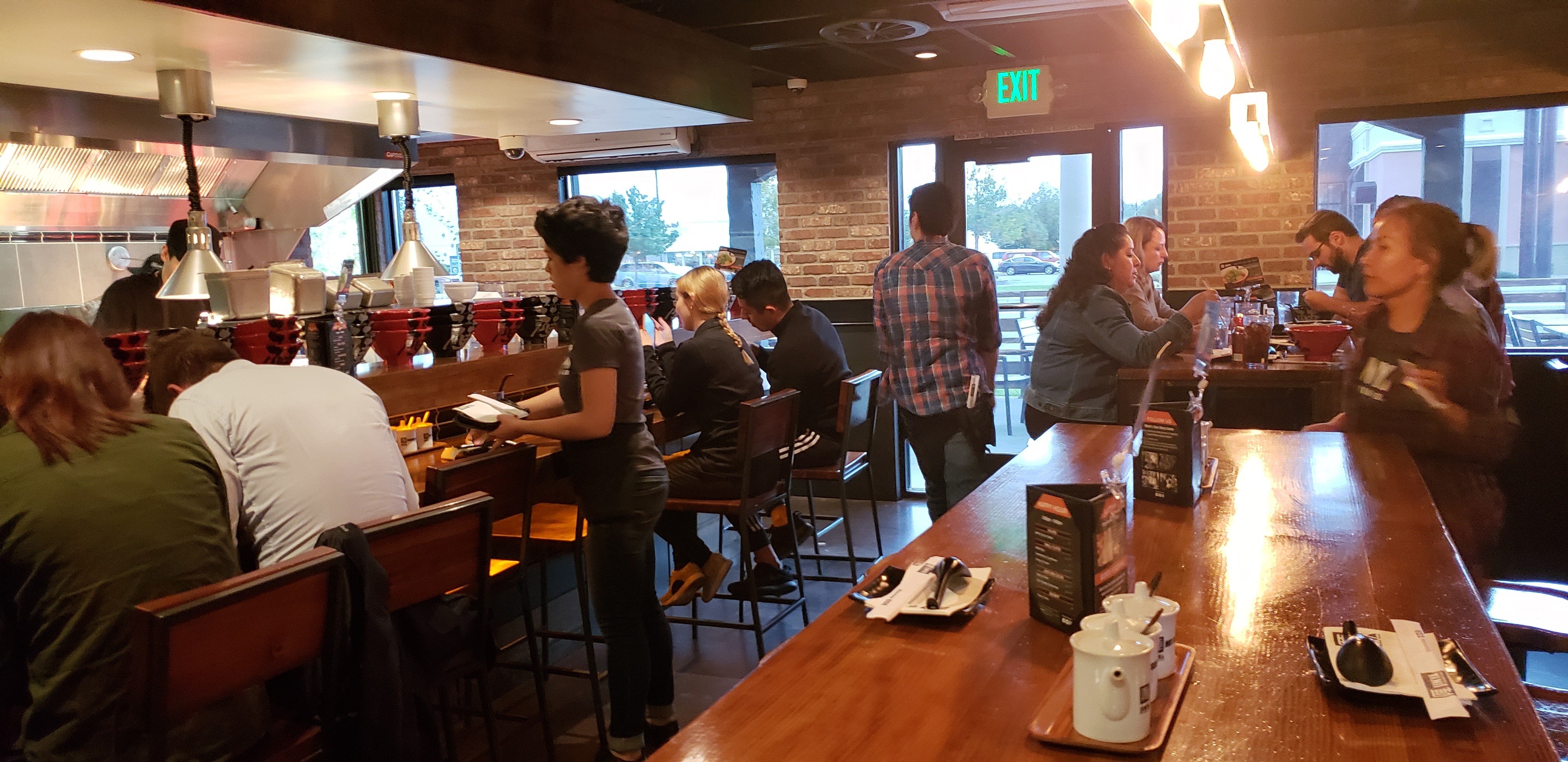 Atmosphere
The restaurant itself was very nice on the outside as well as the interior. Jinya is located on the corner of 5905 S and State Street in Murray, a very busy location. Jinya is a chain restaurant so there is another location in downtown Salt Lake City. We went on a Tuesday in January around noon and I was surprised just how packed it was. The restaurant was pretty small, but that is not uncommon with ramen shops.The inside of the restaurant had a nice feel to it. There was a lot of dark wood to give it an older, classy look with a subtle hint of japanese style.
I would give the Atmosphere a 7. It was very aesthetically pleasing and elegant, but was very tightly packed leaving me feeling a little claustrophobic.
Customer Service
Our waitress had a wonderful attitude and was cheerful as she took our order and waited on us. After looking over the menu I was a little confused because I didn't recognize any of the ramen. None of the menu items were the traditional japanese style ramen. There were some familiar flavors like Tonkotsu, but it was mixed with something else. No shio, shoyu, or miso that I could see. The menu was very difficult to navigate for someone who was used to traditional ramen.
I tried to ask the waitress some questions about the different ramen, but she didn't seem to know how to answer my questions. She was very patient with me and went to ask the cooks or managers when she didn't know how to answer my questions properly. None of the employees I talked to were japanese so they did their best to steer me towards the most normal bowl of tonkotsu ramen they had. I ordered the Tonkotsu Black.
Our waitress also had to talk to the chefs about the ingredients in the ramen. My daughter has very serious dairy and egg allergies, and while nearly all traditional ramen bowls are dairy and egg free (if you get the soft boiled egg on the side of course), I had to ask to be sure.
She came back moments later to regretfully inform me that all the noodles were made with egg and the broth had milk in it. This was very surprising and disappointing. While on top of ramen being a fan favorite in our household, we love that it is almost always safe for our daughter to eat with us. Sadly, I could not share my ramen with my daughter and ordered her a small bowl of rice instead.
Despite my disappointment with the menu, our waitress and the manager were very patient and helpful as they tried to answer all of my questions as quickly as they could. For that, I will give the service a 6. It might have been a little higher had the wait time for the food been shorter. It was very busy but it was an unusually long time before we got our food.
The Noodles
I wasn't very optimistic about the meal after the fiasco with ordering. The noodles were a bit on the thin side and did not taste like normal ramen noodles. The noodles still had a good taste and I was able to enjoy them once I got over the idea that I was not eating a traditional bowl of ramen. I have definitely had worse noodles, but since they were not what I would have expected in ramen I will only give the noodles a 4.
The Toppings
The toppings were very interesting. They took typical toppings and threw in some unique toppings. Since I got the most "normal" ramen, it came with the regular chashu, green onion, nori, and egg. It also came with some toppings that were a bit new to me such as garlic chips and fried onion.
I actually enjoyed the flavor that the garlic chips and fried onion added to the dish. Some of the other ramen bowls offered quite different toppings like lime, cilantro, chili sauce, brussel sprouts, spinach, ground beef, broccoli and many others.
The chashu wasn't the best and seemed a bit overcooked. The egg was also slightly overcooked but the flavor from being marinated saved it.
I gave the toppings a 6. The different varieties of toppings they served was anything but traditional, however, sometimes it is nice to try new things with ramen. The chashu could have been better, and we have found that the meat is often difficult to get right.
The Broth
Again, the broth was not traditional tonkotsu broth. It was very salty and was hard to finish. Every now and then there was a good pork taste to it, but was unfortunately overpowered by the flavor of the garlic chips and fried onion so I wasn't really able to properly taste the broth. I will give it a 6.
Conclusion
I would not recommend this place to a person who is looking for authentic ramen. It was good food and I could see why it was so popular for locals. I would definitely classify Jinya ramen as a fusion restaurant, with many Japanese style dishes but with a twist.
I probably would not come back, mainly because our daughter is unable to eat any of it. If I did go back, I would try one of the more "out there" ramen bowls, just to try something different.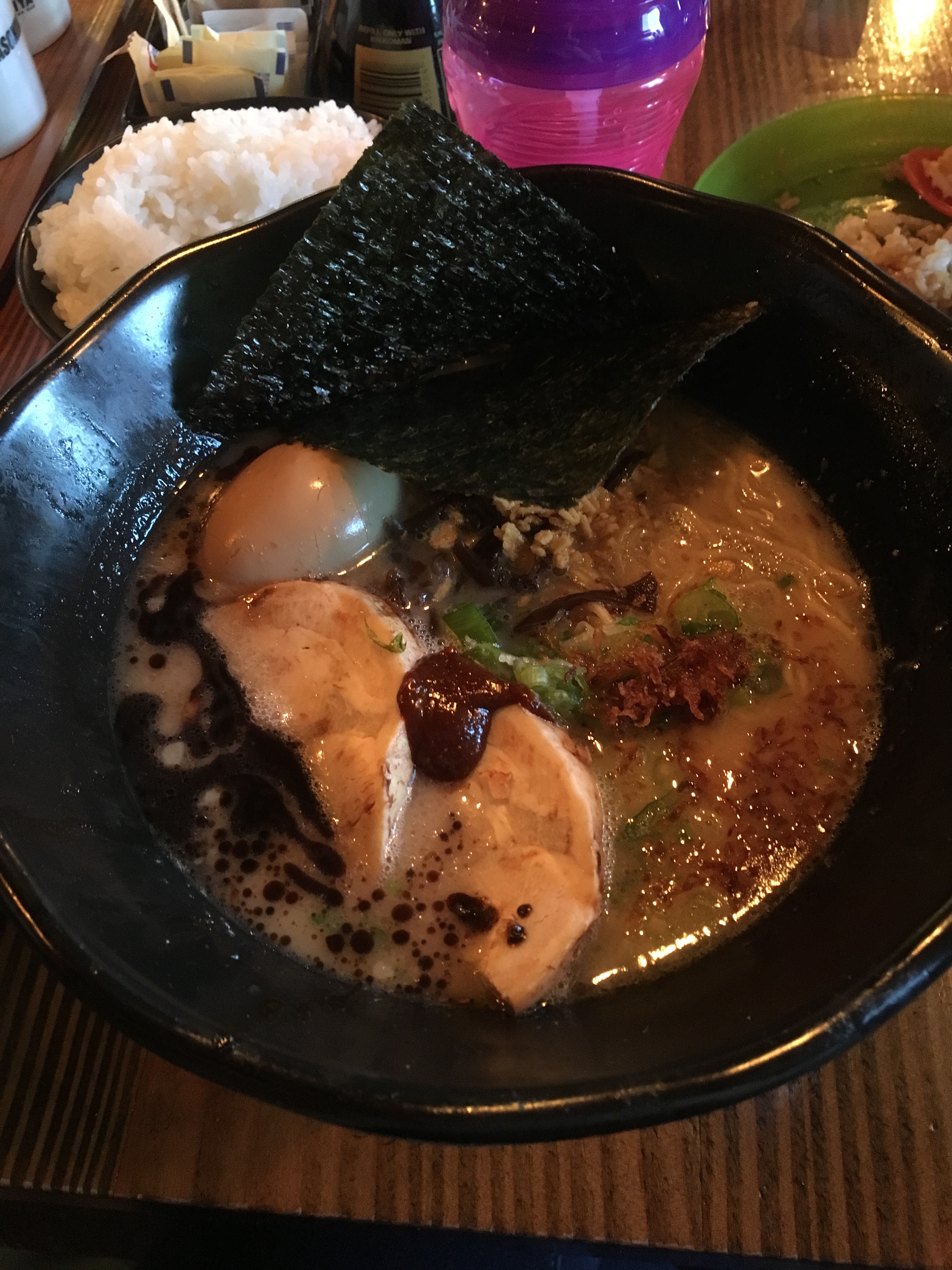 Post a comment:
0

Comment(s)
---