My Momi Experience
I have been searching for over 10 years for this donut in the US. I'm Japanese and in Japan there is a donut shop called Mister Donuts. This is one of the best donut shops in the world and one of the main reasons it's so amazing is because of their signature donut, the Pon-de-Ring. This donut has a beautifully chewy texture with a lightness that is ever so elusive. I have searched far and wide to either find a donut shop that makes these or find the recipe to make them myself.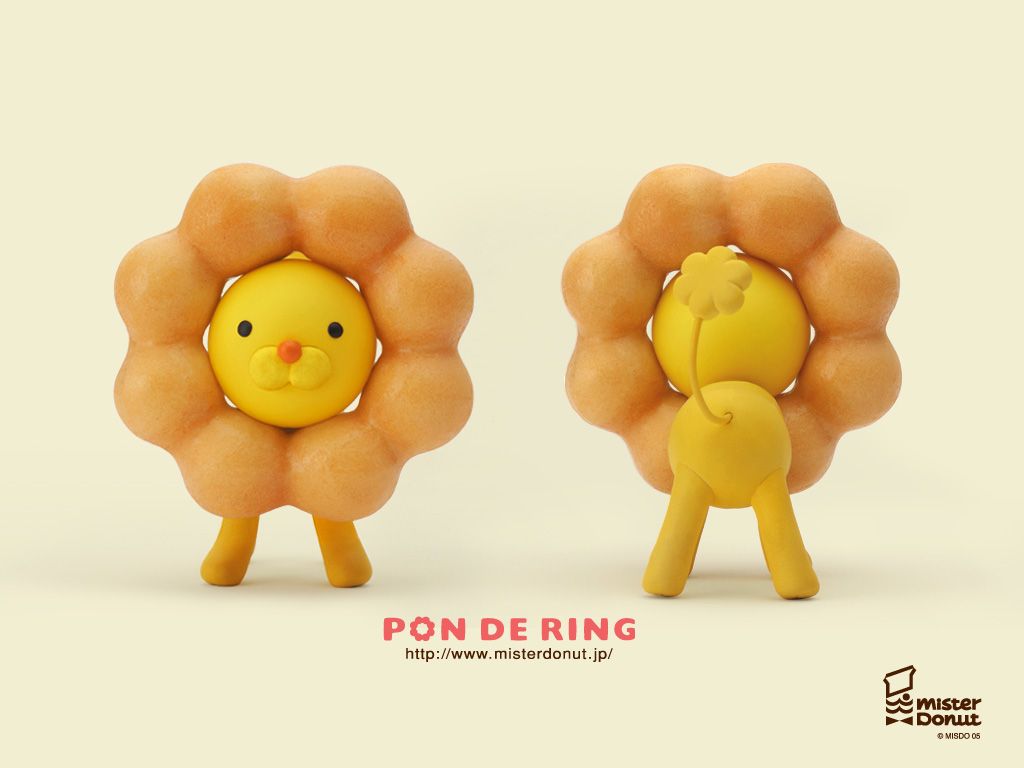 From countless hours of testing recipes to deep research as to why Pon-de-Ring doesn't exist except in Japan, I thought all was lost until I saw an ad on the Gateway Mall's Instagram Story. I immediately found out who was tagged in that picture and followed them. I went to their website and signed up for the mailer. Momi Donuts was the place and it was going to open on November 16th 2019. I was stoked.
November 14th rolls around and I receive an email from Momi saying "Surprise! Please come in during opening weekend on November 16-17, 2019 and show us this email. You can redeem it for two complimentary mocha donuts and milk." Now their website could definitely use some work, but I thought to myself "Wow, these guys at least have a little knowledge of digital marketing. They are getting me super excited. Good on them."
I show up at Momi Donuts on November 16th and low and behold there is a sign that says "Sorry we are delaying our opening weekend. We'll let you know on Instagram when we open." My first thought was "Why in the world did I drive all the way down here just to find out they weren't open. Why didn't they send me an email saying they were delaying? They had my attention through email it would've been great to continue to use that avenue to convey this very important piece of information!" Oh well. We went home.
Atmosphere
Eventually I made it. I showed up around 3pm on November 23rd (the next Saturday). There were two people waiting for their donuts, but no one else in line. I went up and got my two free donuts and milk and then ordered all the available flavors they had minus the Matcha Latte one. Plain, Glazed, Strawberry, Guava, Cookies N Cream, and Churro flavor.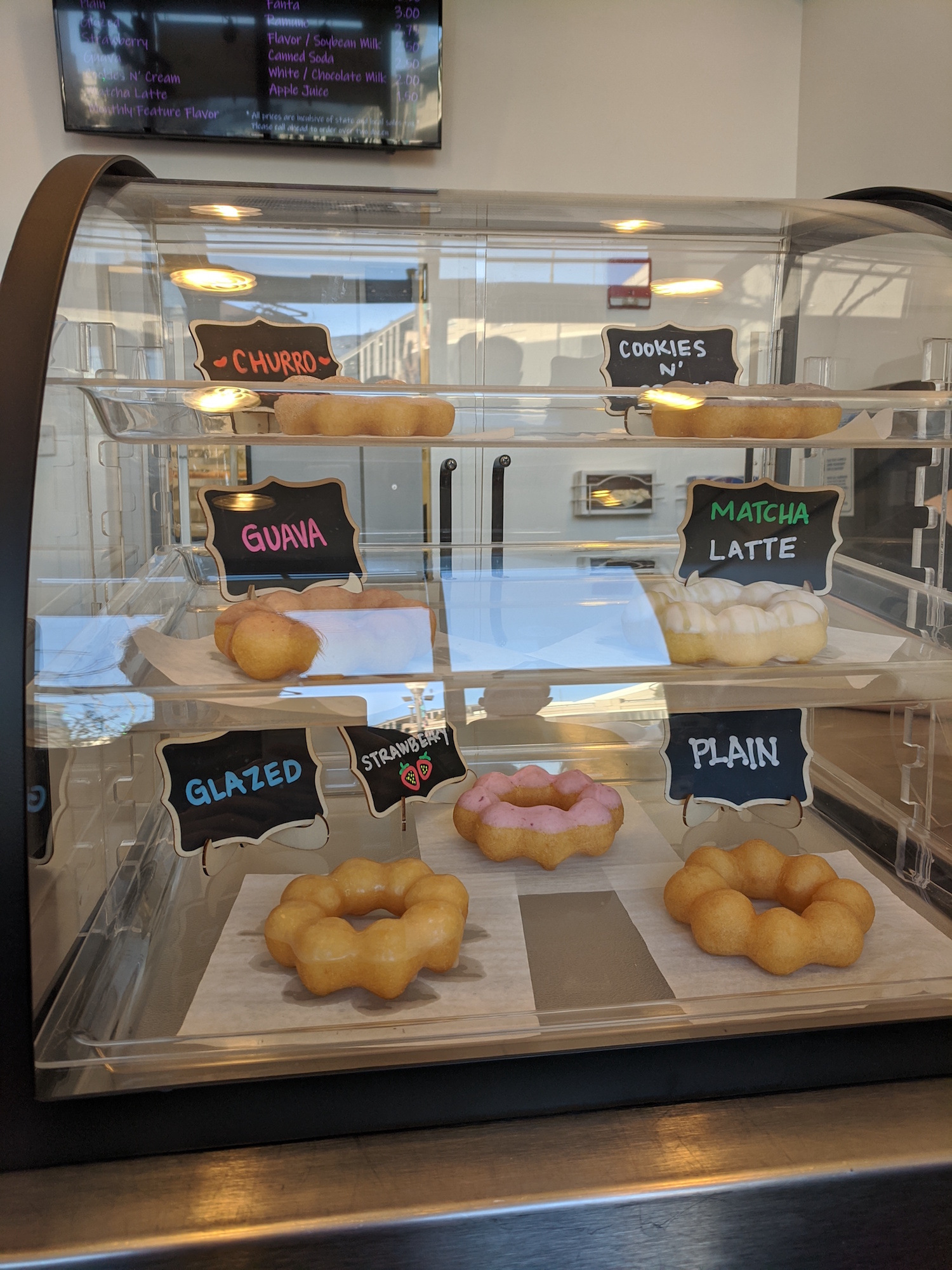 The space they picked out was super small. You could probably fit only 10 people max in the store because most of it was blocked off for the making of the donuts. There was K-pop playing on a big screen TV behind the donut makers and a nice display of all the different styles of donuts they offer. After I got the donuts I had to leave the store because there was a line going out the door. It was good that I showed up when I did or else I would have been waiting for quite some time.
Customer Service
The customer service was ok. Normally I find the best customer service is when the person across the register outwardly expresses their gladness that you came. The lady wasn't horrible by any means, but I could tell that perhaps the stress of opening a new business was getting to her so it wasn't a "remarkable" experience for me.
I also asked the lady if she knew what Mister Donuts was and she had no idea. This was pretty strange and I was afraid for her because from my research, Dunkin Donuts owns the Mister Donuts brand in the United States and if they found out that they were using the "Pon-de-Ring" trademark, I'm sure they wouldn't be too happy about it. At least they weren't flailing the term around too much so hopefully they stay in business.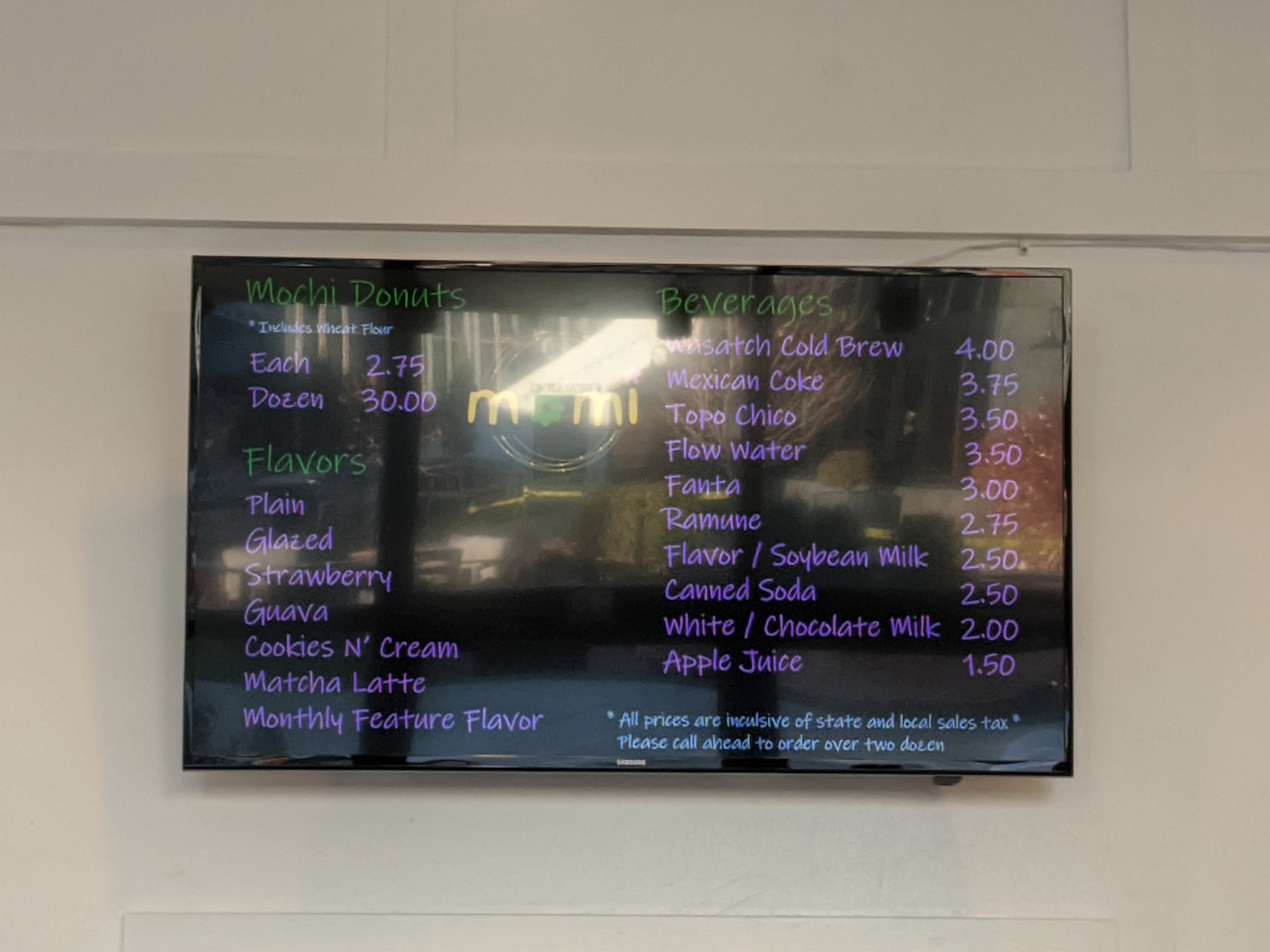 The Donut
I walked outside to the mini park in the Gateway Mall put my box of 8 donuts on the table and took out a warm Glaze. I ripped the donut in half (4 sections each) and took a bite of the first section. This was the moment. The chewiness was there. The glaze was delicious, but the oil they used was just not quite the same. Was it good? Absolutely. Was it Mister Donuts? Almost, but not quite. Mister Donuts has a bit more lightness to it. It's chewy, but it's also light. Momi's Donut was chewy but it was a bit heavier than normal and the frying medium seemed like shortening rather than safflower oil or another "non-taste" oil.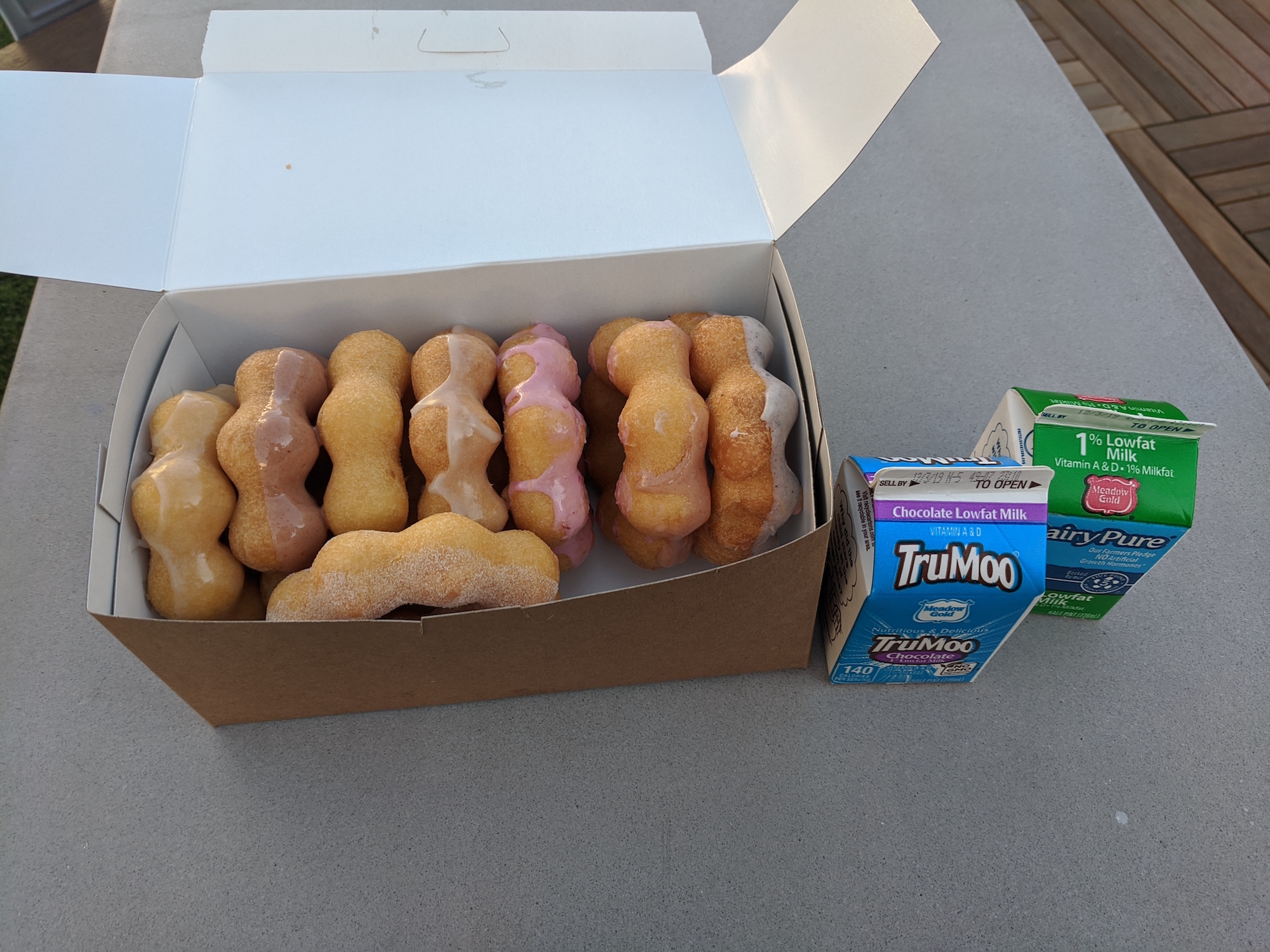 After eating only a portion of the Glaze I took the rest back home and shared it with my wife. The conclusion for me after trying all of the donuts is that Cookies N' Cream was the best flavor. The lady said Guava was a popular one and I did like that one, but I'm just a sucker for Cookies N' Cream. When you go to Momi you should order at least a Glaze to give you a base flavor. The Glaze is good enough to satisfy your sweet tooth, but also weak enough to let you really understand the chewiness that is the trademark of this donut.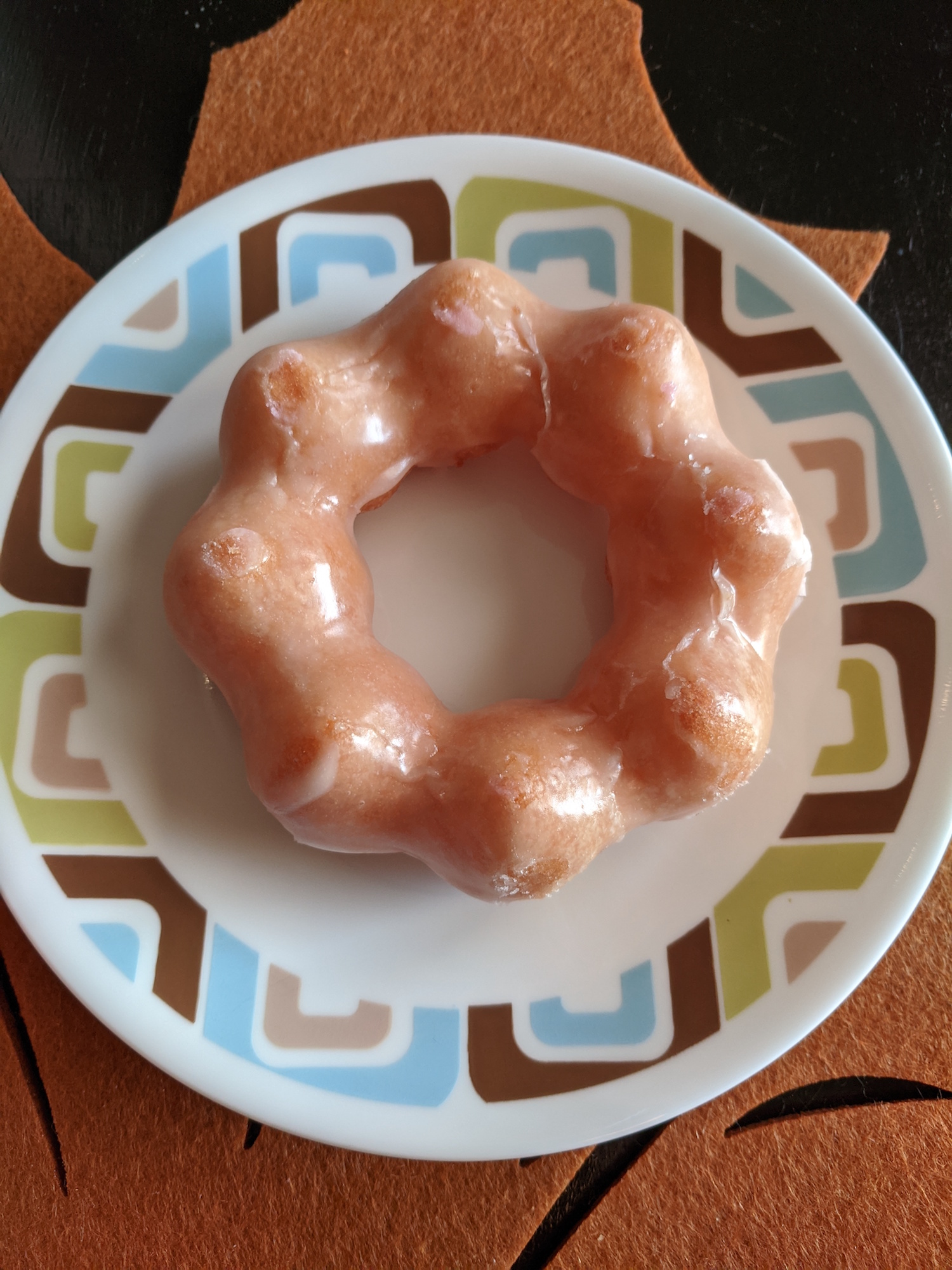 Conclusion
If you have never tried a Mister Donuts Pon-de-Ring before, you absolutely have to try this place. It will introduce you to one of the best donuts on the planet without the price tag of having to fly to Japan or another place with a Mister Donuts. Just know that it's not quite the original donut I know and love. The only other alternative is to wait until Dunkin Donuts realizes all the revenue they are missing out on and start selling the real version of the donut, but until then you'll find me at Momi Donuts for my Pon-de-Ring fix.

Post a comment:
0

Comment(s)
---