The last time I wrote my review on Ramen Haus I was unimpressed with mainly the service, but after a few years I decided I wanted to give it another try. Ramen Haus is in the bustling part of downtown Ogden, just off the 25th Street craziness. They are now open everyday of the week, open for lunch (11am-2pm) and dinner (5pm-9pm), then on Saturday and Sunday from 1pm to 9pm.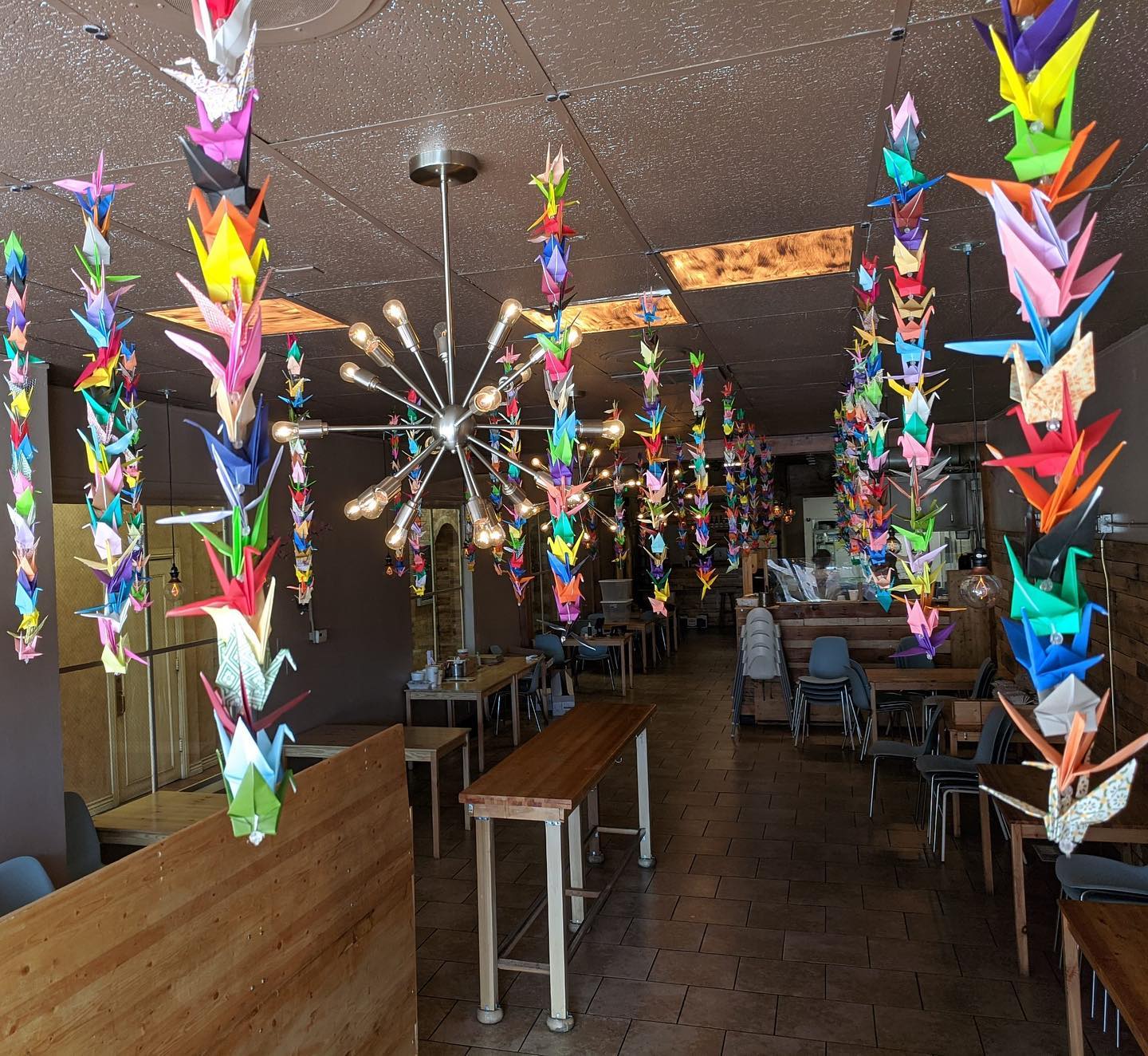 Atmosphere
My last experience with Ramen Haus was the terrible parking. I could not find anywhere to park, but thankfully now I know that there is a parking garage in the back of the building with plenty of parking space for guests. So coming to Ramen Haus is now always easy. This is something that I wish more people knew about so that they didn't have to struggle to find a place to park.
After walking into the restaurant the atmosphere has changed dramatically. Where before it was mainly plain IKEA furniture, now they have 1000 paper cranes hanging from the ceiling and triangular lights hanging on the wall that dance to the music that is playing in the background. What I didn't know the first time was the Japanese movie posters hanging towards the back of the restaurant. Those posters seem to attract a small crowd of J-pop and anime lovers.
Coming through the back still gives me that old city/alleyway vibe, but then inside the restaurant the atmosphere feels so happy with the colorful cranes, lights, and upbeat music.
With the combination of old and new it really feels like how Tokyo might feel now where you know it's an old city, but they've done such a good job mixing old Tokyo and new Tokyo that it feels so unique. That's the kind of atmosphere I feel that Ramen Haus has now. Because of that I'd give it a good nine. It's one of the coolest restaurants I've been in.
Customer Service
When walking in, we were greeted by one of the servers that took a menu out of the podium and sat us down at one of the tables. They greeted us politely and I could tell by the way they held themselves that they loved working here. Very customer focused and ready to help us figure out the best thing to eat. The great thing about the servers are that you can tell that they also love the food because of how they talk about it.
The server was one of the friendliest servers I'd every had the chance to meet. They were quick to full up our drinks and came to check on us only a few times. Not so much that it was overbearing, but enough to let us know that they were there if we needed them.
This time the ramen that we ordered came out very fast. It only took 10 minutes or so for us to get our food compared to 45 minutes before. I could definitely tell that this time around they were a lot better prepared. Of course, you can still tell this place is a local mom and pop shop, but it no longer has the small business incompetence, and has that mom and pop/local restaurant charm.
Overall, the customer service was a big improvement from last time and I'd give it a nine. Service was great and the server was amazing.
The Noodles
Last time I had the noodles here I felt like I was slurping up angel hair pasta. Not this time. The noodles were almost perfect. They had that yellow hue which indicated the "kansui" (alkali) addition that gave it that chewy texture that ramen should have. The size was a good 2mm in diameter and it held the flavor of the broth very well. A major improvement from last time.
Overall, I would give the noodles an eight. It was definitely steps up from the angel hair pasta and it actually tasted like a traditional bowl of noodles.
The Toppings
Ramen Haus toppings are very unique and I think that's what makes it stand out from other ramen restaurants. My tonkotsu ramen had slices of chashu, spicy ground pork, green onions, two haves of a marinated soft-boiled egg with some red chili flakes, corn, and some seaweed. Last time I fell in love with the corn and again the corn is amazing. They cut it straight off of the cob and you can tell because some of the corn sticks together, so you know it's fresh.
The chashu was excellent. Lots of meat and it melted in my mouth as I ate it, which is something you always have to look for in a good chashu. They also give you two halves of the egg which is great! Most ramen places only give you one half, so it always feels like you've getting more bang for your buck because that marinated egg is delicious!
The corn addition is just such a great thing for this bowl of ramen because no where else is this a staple and I think it's really what makes Ramen Haus' bowl of ramen different from any other place.
Overall, the toppings get a nine. The good amount of chashu slices, the amazing corn addition, the marinated egg, and the added red color of the spicy ground pork oil all make this a worthwhile, memorable bowl of ramen
The Broth
The broth was very well made. It was creamy; it complemented the toppings and the noodles and wrapped the bowl up nicely. It was rich in pork flavor and had a unique punch to it. The spicy pork ramen gave it a little extra kick as well.
Overall, I'd give the broth an nine. It was well prepared, had a very rich pork flavor and had a subtle flavor that gave it some uniqueness.
Conclusion
I am a connoisseur of ramen and have been to nearly all the best ramen places in Utah. The ramen here is by far the best, but what makes this place even better is the experience and atmosphere. It's got such a fun vibe and happy atmosphere. The servers seem so happy to be there and you can tell they genuinely love working here.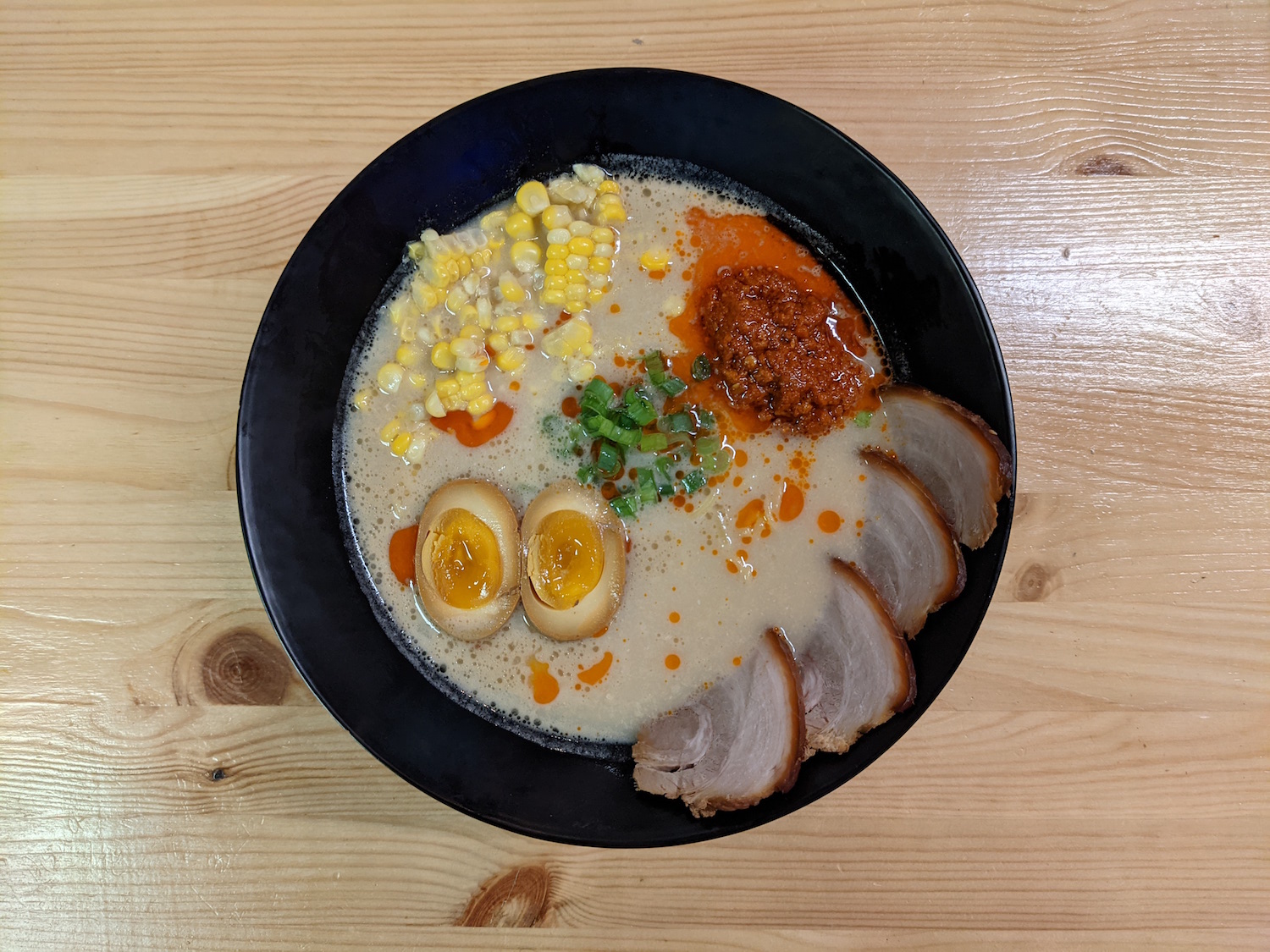 Post a comment:
2

Comment(s)
---