This weekend I was able to test out Ramen930 in Layton Utah. Ramen930 is located in the same location as Cupbop and El Paisa at 743 King St in Layton. It's open Monday thru Saturday from 11am to 9pm. Let me start out by saying that this is a super weird place. It seems like three completely random food truck companies decided to go in together to lease out a location.
Atmosphere
We visited Ramen930 around 5pm on a Friday evening and it was decently filled. The wall on the left was completely full of Cupbop advertisements and the wall on the right was a big mural related to Ramen930. It was odd that although there was also a Mexican place located here, their advertisements or decorations was no where to be seen.
For the situation it seemed like they did a decent job with the interior design. They mixed the yellow of the Cupbob brand with the black of the Ramen930 brand and the tables were alternating between these two colors. That being said, the general atmosphere was just your typical order, pay, and sit-down to eat.
Overall, I would give the atmosphere a six. I could see customers getting very confused about what restaurant they are actually going into, but for the situation they did a decent job with the interior decoration.
Customer Service
The branding is a big mishmash of all three companies and I felt like they lost their sense of customer service because the employees are only from Cupbop and don't know about any of the other food. We asked the cashier at the counter questions about the ramen and about allergy specifics and he was having a really hard time answering these simple questions. This was definitely attributed to the fact that he worked for Cupbop and didn't really care about the other businesses he was supposed to be representing.
There was a second cashier working at the same time and she was a bit standoffish with our questions about allergies. Our daughter cannot touch dairy and we wanted to make sure we knew what she could and couldn't eat. She told us that the noodles had dairy in them which is super bizarre and it gave me the impression that she didn't actually know.
Since neither of them could give us any suggestions on what to order for our daughter, we just got her some rice, but when asking for soy sauce, they said they weren't sure if they had soy sauce. I thought this was ridiculous coming from a Korean and Japanese restaurant. They did end up finding some for us, but how bizarre!
One important thing to note about the meal was that it didn't come with a soup spoon. That was a huge ding on the meal here. I had to use a normal spoon to eat my soup which made it difficult to eat the noodles and the soup.
Overall, I would give the customer service a four. They weren't terrible, but they were far from helpful. Honestly it was because of the mishmash of brands trying to encompass the same place. It was uncomfortable asking a Cupbop employee about Ramen930 meals because he didn't know and didn't care to know.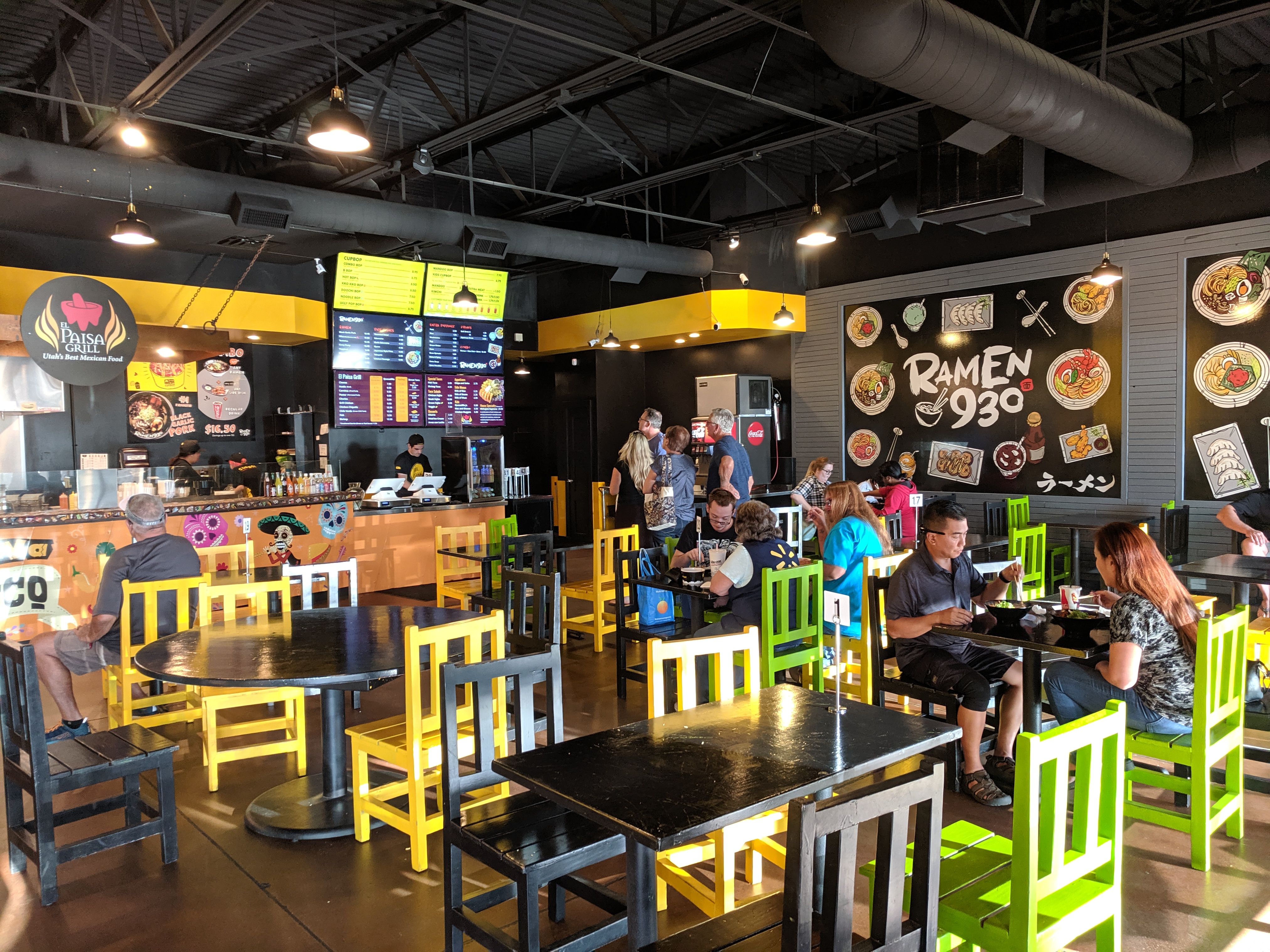 The Noodles
I ended up ordering just a normal tonkotsu ramen. There was a black garlic version, but since there was a normal tonkotsu I went with that. The noodles were pretty decent. They were a good diameter (2-3mm) and well crimped. They were not too cooked, but they were not as chewy as I would have liked.
According to the cashier the noodles had dairy, but I'm going to call foul on that statement. I doubt they had dairy. If they actually did I would be surprised. Still good noodles though.
Overall, I would give the noodles a seven. They were decent tasting. Not too cooked and a good size for my liking.
The Toppings
Ramen930's main topping seemed like it was Wakame (sea algae). There was a ton of Wakame in the soup. There was also bean sprouts, and vertically shredded green onions. Both of these were pretty good. I liked the design the vertically shredded green onions added to the bowl.
The chashu was terrible. Honestly the first thought I had was that they took some shredded pork from the Mexican restaurant and plopped in into the ramen bowl.
The soft-boiled egg was not soft boiled. It was cooked all the way though and it seemed like they tried to marinate it, but only marinated it for like 1 minute as opposed to 24 hours.
Overall the toppings get a four. The two most important toppings were far from good. I was a fan of the green onions, but the Wakame was way too overloaded and again the meat was so bad.
The Broth
The broth wasn't good. I wasn't able to finish it. Usually I finish drinking the broth in all the ramen bowls I try, but I just didn't feel like I needed to finish the broth because it just tasted too fishy. The tonkotsu seemed like it had way too much fish taste and not enough pork taste. It had a decent creamy consistency, but just didn't meet the taste of creamy pork that a good tonkotsu bowl should have.
Overall, I would give the broth a four. I just couldn't get myself to finish the broth.
Conclusion
Knowing that this was a chain restaurant before walking in I was not expecting much. Chain restaurants have a priority to lower costs and quality to the lowest threshold in order to save money. You could definitely tell that Ramen930 here in Layton did just this.
The ramen wasn't the greatest. I wouldn't suggest anyone that wants a real bowl of ramen to come here. The broth was not good. The chashu and egg were very bad. The noodles were ok, but when the best aspects of the ramen are the secondary things like green onions, there's something wrong with their priorities.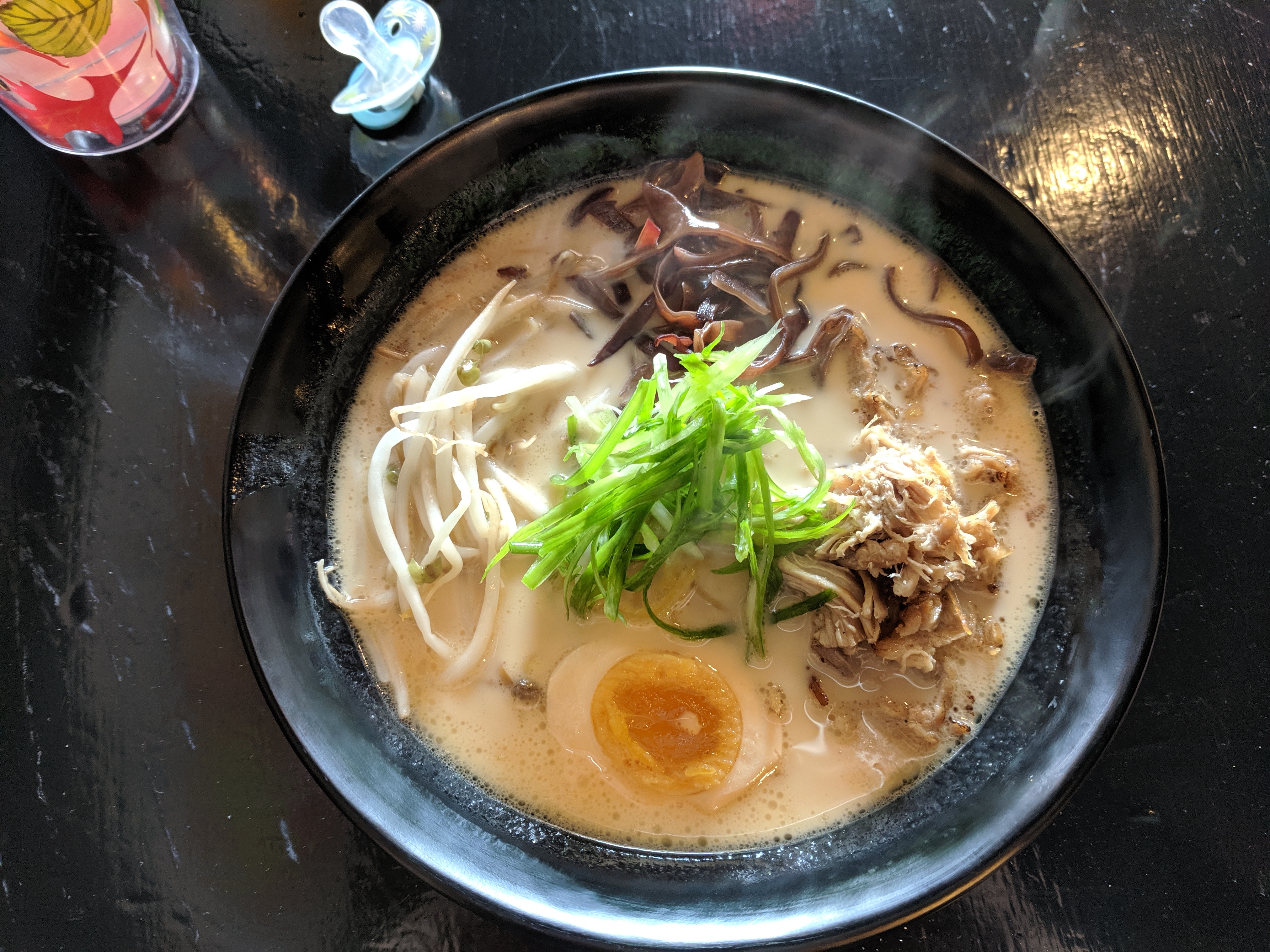 Post a comment:
0

Comment(s)
---