Over the weekend, I was able to test out Samurai Noodle with my family. We were drawn to this specific ramen shop in particular because on their website they claimed to hand make their noodles fresh every morning. Samurai Noodle is open every day of the week. On weekdays, they open from 11:30am to 9pm. On Friday and Saturday, they are open from 11:30am to 10pm and on Sunday they are open from 11:30am to 3pm. Samurai Noodle is located at 11483 State St, in Draper Utah.
Atmosphere
We walked into Samurai Noodle on a Friday evening around 7pm and it was lively. There were quite a few people eating there which was a good sign that the food was going to be good. Old Japanese movie posters hung from the walls giving the place a more traditional street vendor vibe. A TV hung from one side of the room that had a Japanese drama playing with subtitles for the English-speaking patrons. One of the walls showed pictures of past customers that had completed some sort of challenge.
The crown jewel was the noodle maker behind glass in the corner of the room that must have been working hard at the beginning of the day. This is why we were here. I was hoping that this place would give me the best ramen experience I've ever had in Utah. As we walked in, the server directed us to sit anywhere and she would be right with us. So we sat down at a table that I could tell was very worn, but clean. The entire place really had the vibe of a typical old Japanese street food vendor.
Overall, I would give the atmosphere an eight. The noodle-making machine was interesting to look at while we waited for our food and the Japanese movie posters and drama on TV provided a very realistic Japanese experience. One that I found myself often while living in Japan.
Customer Service
After we sat down the server greeted us with waters and had a cheery disposition. I could tell that she enjoyed working there and it showed through her interaction with us and the other guests. She was the only server working all the tables, but I never felt that we were waiting long for anything.
The menu was very odd. "Super Shouyu Tonkotsu Ramen" was the name of their main meal and it was the one the server suggested getting. My wife got the Hakata Tonkotsu Ramen and Mother-in-law got the Mushroom Ramen. As always, we asked the server if there was any dairy in any of the meals. She had to ask the cook specifically, there was no dairy or egg in any of them except for the egg noodles. The Hakata Ramen was made with wheat noodles rather than egg, but still handmade.
Overall, I would give the customer service an eight. The server was friendly and within 11 minutes, we received our edamame, but during that time had a chance to look at the noodle maker and posters on the walls. Then another six minutes after, we got our ramen. We also talked with her about different ramen shops and she expressed interest in our conversation. Overall great service.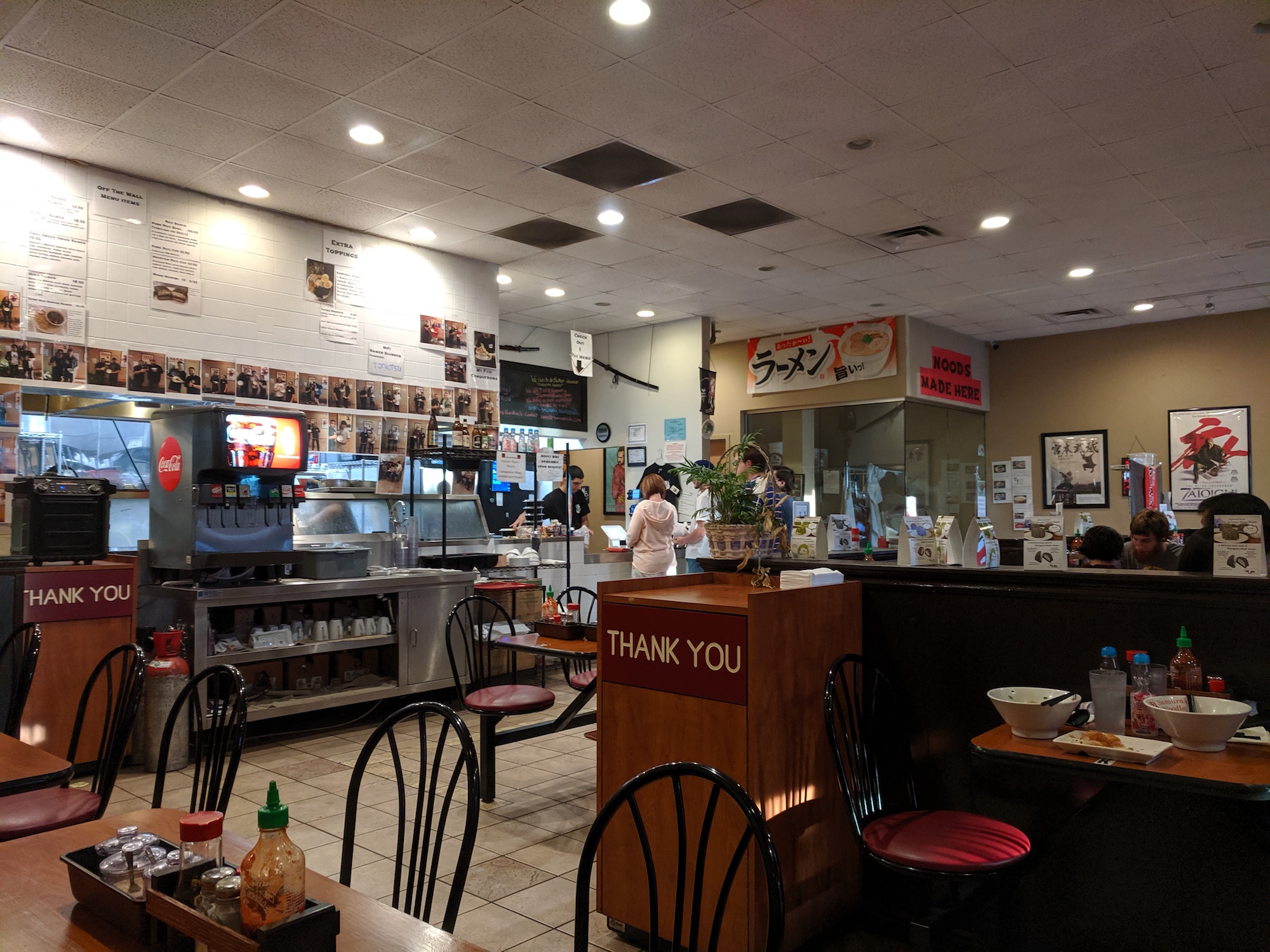 Noodles
This was the reason we even decided to come to this ramen shop. Put simply, the noodles were delicious. The great thing was that we were able to try two different types of noodles, egg and wheat. Both were delicious. The egg noodles were wavy and more akin to what you'd see in typical ramen. The wheat noodles were straight, but definitely not out of the norm for normal noodles. My wife loved the wheat and my daughter did as well. I thought they did a fantastic job with both noodles and there was plenty to satisfy my hunger.
It would have been really cool to see them work the noodle machine. We were able to see it behind the glass, but it was in a dark room with no one working at it. I'm sure they do it in the mornings before 11:30am, but I would have loved to see it in action.
Overall, I would give the noodles a nine. If you end up coming here with a friend or family, make sure to get both styles of noodles to try for yourself. Both styles have a good texture and great taste to them. They did a good job here and I can't wait to try more in the future.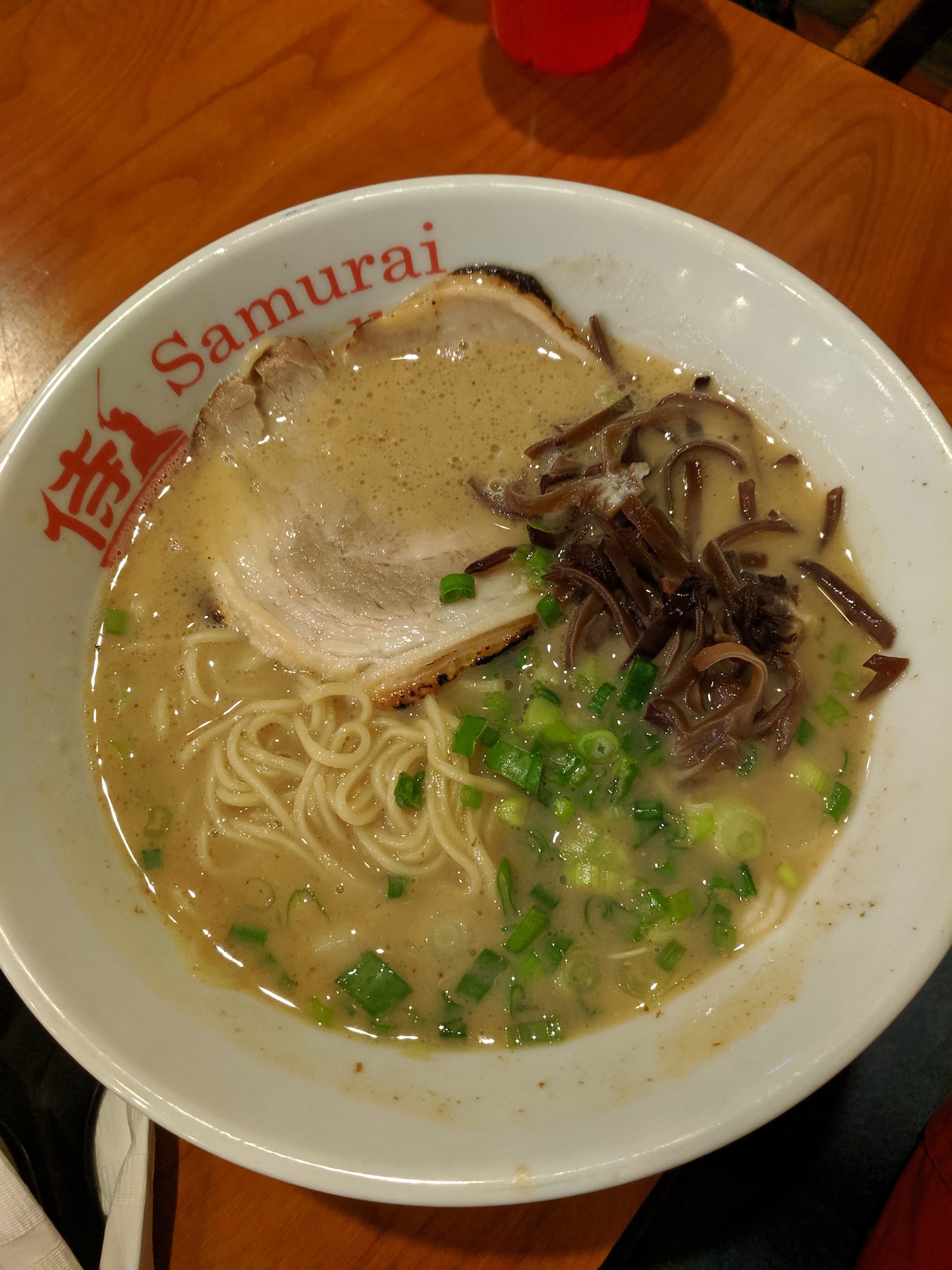 Toppings
The toppings were normal. There isn't much to add because there was nothing really special about the toppings. My bowl had one slice of Narutomaki (fish cake), a bunch of Menma (bamboo), bean sprouts, green onions and seaweed. The Hakata Ramen just had green onions and Kikurage (black mushroom). The Mushroom soup had green onions and three different types of mushrooms (King Trumpet, Beach, and Bottom).
All of the bowls had meat, but I wouldn't consider it chashu meat. It fell apart very nicely and it was plentiful. I actually had two slices of meat, which took up a considerable amount of space in my bowl. It didn't have that chashu taste that I like, but in terms of tenderness it was perfect. Good amount of fat versus meat and melted in my mouth. My bowl also came with a soft-boiled egg that they made with perfection.
Overall, I would give the toppings an eight. For my personal perfect meat I would've liked more of that chashu flavor, but because the meat was tender and fell apart easily it did a great job. The egg was great and the rest of the toppings were not bad.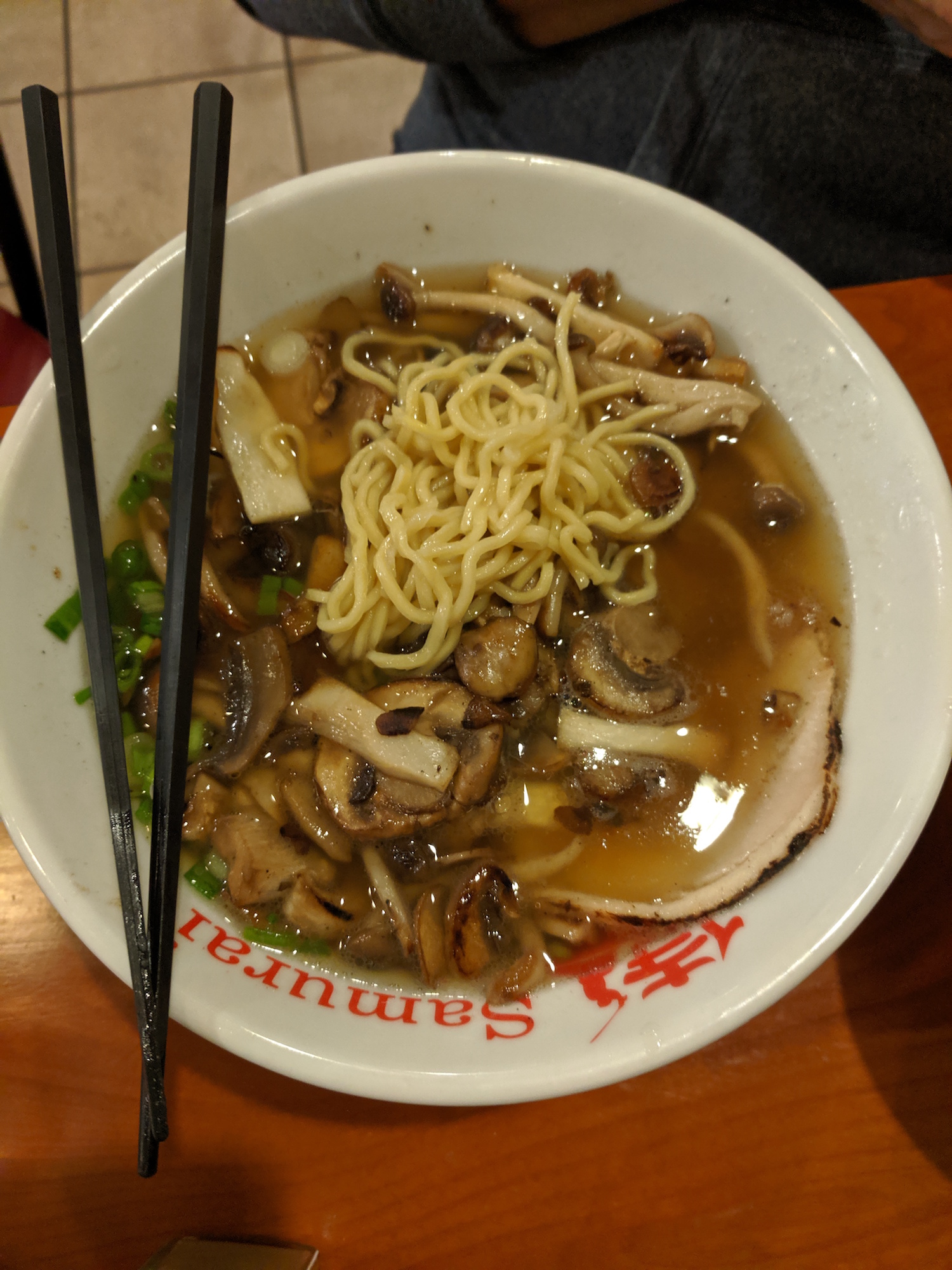 Broth
I've gotta say, I was disappointed in the broth. When I took my first spoonful there was an overwhelming taste of chicken broth and it was a bit off-putting because I was hoping for a really creamy pork broth taste. That was just for my bowl. My wife loved her broth most likely because it was just the pork broth. I wasn't a huge fan of the chicken broth mix, but my favorite broth was the mushroom broth. It reminded me of a hot bowl of mushroom soup on a cold winter's day.
Usually I end up finishing all of my broth, but this time I just didn't feel the need to. My broth was ok, but it just wasn't that good. The straight pork broth on the other hand seemed to be a major hit with my wife and daughter. They had to stop themselves from finishing it all in order to take home some broth with the extra noodles we ordered. I would've loved to taste a more creamy pork broth, but they liked it.
Overall, I would give the broth a seven. If possible, next time I'm going to ask them to switch out the chicken-pork mix with just the straight pork broth from the Hakata Ramen. I think I would've liked it a lot more. If you like the taste of chicken broth though, this might be the broth for you.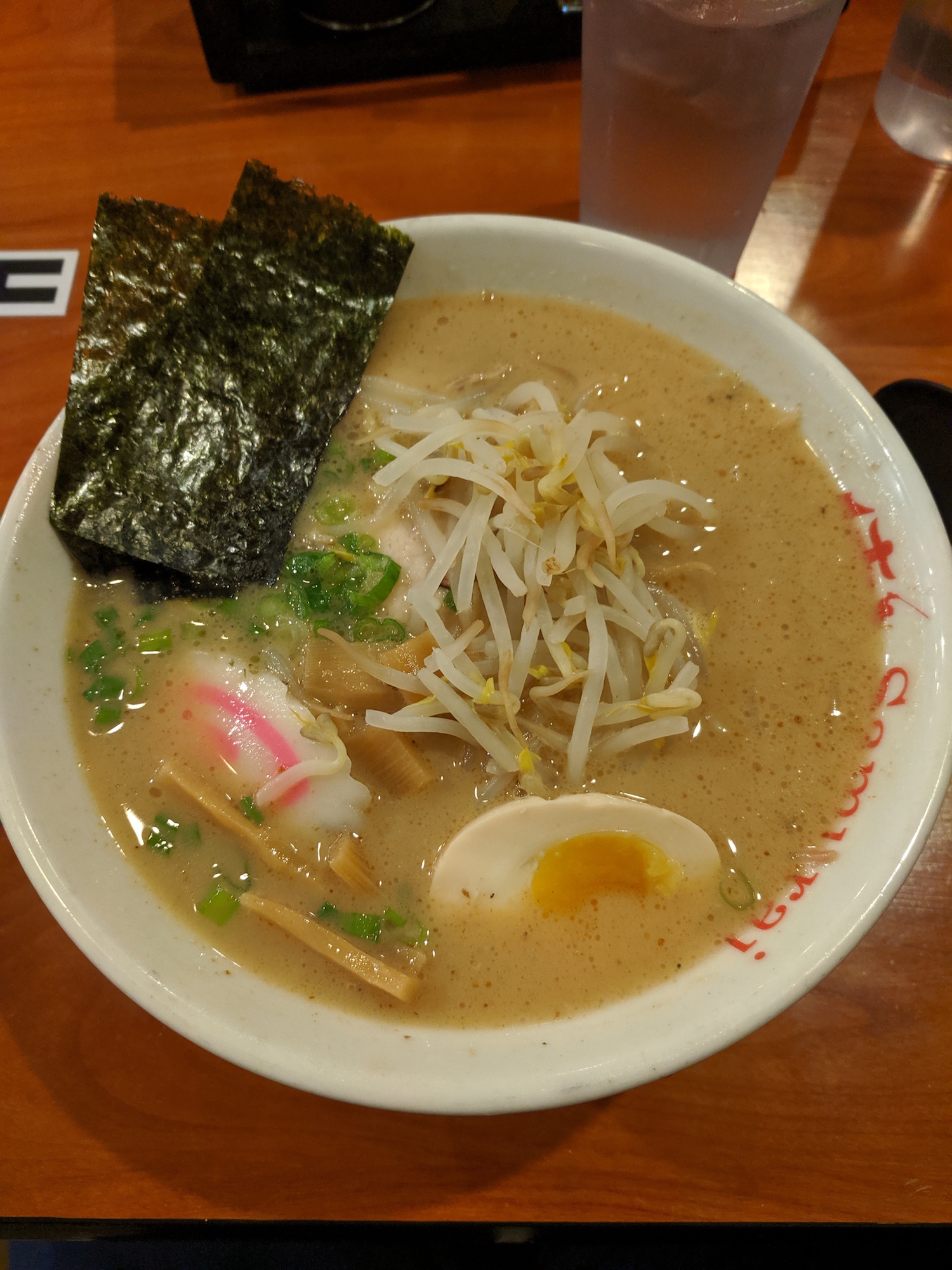 Conclusion
Samurai Noodle is a great place to get the Japanese street food feel. Their ramen is good, but what stands out above all was the noodles. The noodles were great and I would go back just for that. Again, the broth was ok, but it didn't provide the creaminess that usually accompanies tonkotsu. I thought this place was good enough that I would recommend it to people in the area.
The customer service was good as well. When asking the server if this place was a chain restaurant she told us that she didn't think it was, but that she would check. A few minutes later, she came back and told us it, in fact, was a chain restaurant. They have locations in Seattle, and Houston among other areas, but it was the only one in Utah.

Post a comment:
1

Comment(s)
---