Over the weekend, I visited Nikko Sushi & Ramen in Kaysville, Utah. Of course, we weren't there for the Sushi. It was located on 242 N 300 W in downtown Kaysville right off one of the busiest streets. Nikko Sushi & Ramen is open for lunch (11am - 2:30pm) and for dinner (5pm – 9:30pm). I had not heard of them before the day I visited, but decided to do so because they claimed "Ramen" in their business name.
Atmosphere
We walked in on a Saturday around 6pm and to my dismay, it was empty. A group of three in a booth to the left and one table to my right was full. All the other tables and booths were empty as well as the sushi bar. That was not a good sign. I could see the head sushi chef and three waiters standing around waiting for more customers to show. As we walked in, one of the waiters immediately came to greet us. He told us we could either sit at a table or a booth and walked away to grab menus. As the waiter ran back to get menus we decided to sit in a booth. It was clean and fit the normal vibe of restaurants in that area.
My first impressions of the place were worrisome because of the lack of people eating on a Saturday evening, but after a while those impressions faded. The place was well lit and surrounded by windows to bring in the natural light of the evening sun. The decoration was modern and abstract. The walls were light green and gave the area a "nature fresh" look. One bamboo tree sat behind the sushi bar that helped bring some nature to the room. As I sat down, I noticed John Lennon's Imagine playing overhead and throughout the night it was oldies music.
Overall, I would give the atmosphere a seven. There was nothing spectacular about it. We were eating in a fairly empty room, it was clean, and the music was nice.
Customer Service
One thing I noticed as I walked into the building was the head sushi chef. After a while, I concluded that he must be the owner of the store, but I was uncomfortable with one thing. I could tell that he was watching the customers like a hawk. The entire time we were there, I could feel his eyes watching us eat. Now I understand that there wasn't many customers that night, but it would have been nice for him to either concentrate on his job behind the sushi counter or come and say hi to us at the table. We passed glances occasionally and there was no smile or friendly face. He didn't look mean per se, but more of just a staring contest.
Dalyn was the name of our waiter and I could tell he was new in the customer service world, but he was a natural. He got us our drinks fast and took our order quickly. When we asked about potential dairy in the Tonkotsu broth, he mentioned he wasn't sure. There was a little coaxing on our side to get him to go ask the chef to make sure there was no dairy, but he did so graciously and with a smile. We ordered two Tonkotsu Ramen bowls and within 10 minutes, we found ourselves eating.
Overall, I would give the customer service an eight. Dalyn was a great waiter. He found a commonality with us and it was fun talking to him. He would glance back at the owner as we were talking probably because he wasn't sure if he should talk to us as much as he was, but he was gracious, and the food came out fast. I would suggest that the owner have a happier outlook and if he is interested, he should greet some of his customers on the floor.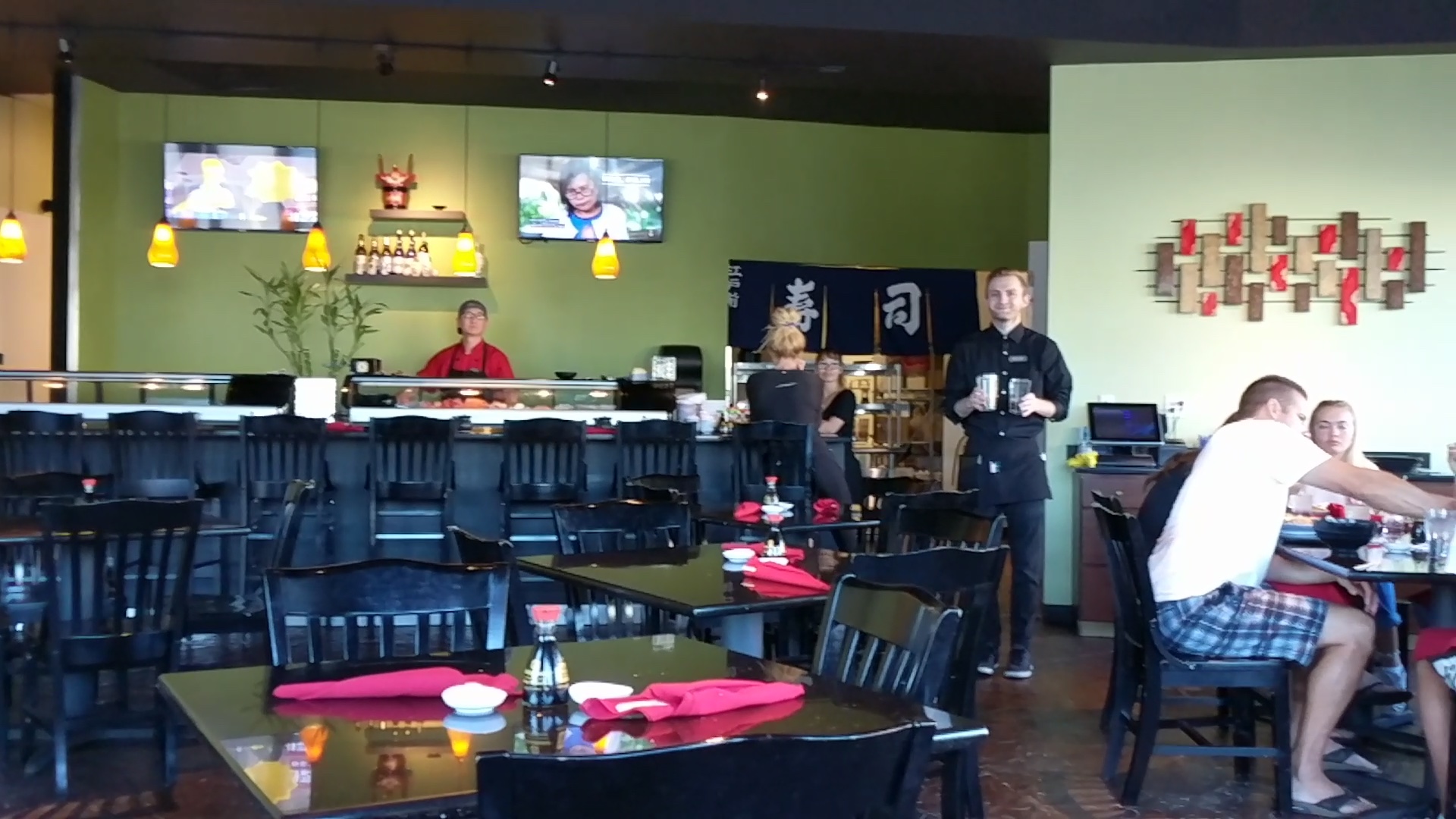 The Noodles
The first thing I dread when I look at the noodles are whether they are instant ramen noodles. The second thing I look for is whether the noodles are from the local market or if they are unique in some way. Fortunately, the noodles were not instant or I would have walked out immediately. Unfortunately, the noodles seemed like they were from the local market.
When I go out to eat ramen I like eating noodles that are different from what I can buy from the store. I could be wrong here, but it seemed like the noodles were the same ones I buy from the store. Of course, the noodles aren't bad, but they just aren't unique. The noodles were about medium size and slightly crimped, the edges indicate they were frozen noodles that had been thawed for this meal.
Overall, I would give the noodles a seven. They were normal ramen noodles that likely came from the store frozen beforehand, but they were thawed all the way through and didn't detract from the broth, which is where Nikko's signature strength lays.
The Toppings
This is where ramen shops really have the chance to put signature styles and combinations on top of their bowl. Nikko chose to go with a traditional set for their toppings and I'm all for it. They kept it simple with two pieces of chashu pork, half of a soft-boiled egg, two slices of narutomaki (fish paste slices), one quarter square of nori (seaweed) and green onion garnish. That's it.
The chashu pieces were decent. They were big circular slices and there was a good balance of meat to fat. The chashu fell apart in my mouth easily and effortlessly. One suggestion here would be the brazing on the outside of the meat. There didn't seem to be any. With this addition they could've given the meat a bit more kick as it was somewhat bland.
The soft-boiled egg was good as well. It had a typical soy-based marinade that soaked in about 2-3mm from the outside. The yolk was almost perfect except I could tell it had been in the fridge almost immediately as they served it to us. This made the runny part in the yolk a bit harder than normal and the egg as a whole was cold. Still very delicious.
Overall, I would give the toppings an eight. I loved the simplistic spread of toppings and the egg was soft-boiled, the meat fell apart easily and none of the toppings overwhelmed the broth.
The Broth
When the ramen came out, I was pretty excited because on the menu it mentioned that the broth comes with a hit of black garlic oil. This addition obviously isn't for everyone. My wife actually disliked the garlic oil because she wanted to taste the pure tonkotsu broth. In my opinion, this small addition gave the meal a great presentation factor. It gave the light brown color a splash of black that gave the meal some contrast and made for great presentation.
In terms of taste, this broth was very good. I loved the addition of the black garlic oil. It gave a nice kick to complement the taste of the creamy broth. I could tell that this small addition is Nikko's signature. It gives the broth a unique taste and unique color that sets this bowl apart from other ramen shops.
Overall, I would give the broth a nine. It was tasty; there was a balance of sweet with salty. The garlic added a small kick complementing the creamy taste and texture of a typical tonkotsu meal. Nikko did a great thing in adding their unique spin on this dish and set themselves apart from other ramen shops. This is their secret weapon.
Conclusion
It's great to see ramen shops popping up around Utah and especially around me. I would suggest that anyone wanting an introduction to real ramen should eat at Nikko's. Their ramen is simple and that's what makes them great. The noodles are good. The toppings are simple yet precise, and the broth is their secret weapon. The broth brings the uniqueness and flavor that embodies a great bowl of ramen that I can recommend.
After talking with the waiter, we found out that the owner apprenticed under another ramen shop owner down in Salt Lake City. His store is called Tosh's Ramen and is one of the best we've eaten. I guess in Utah all good ramen stems from Tosh.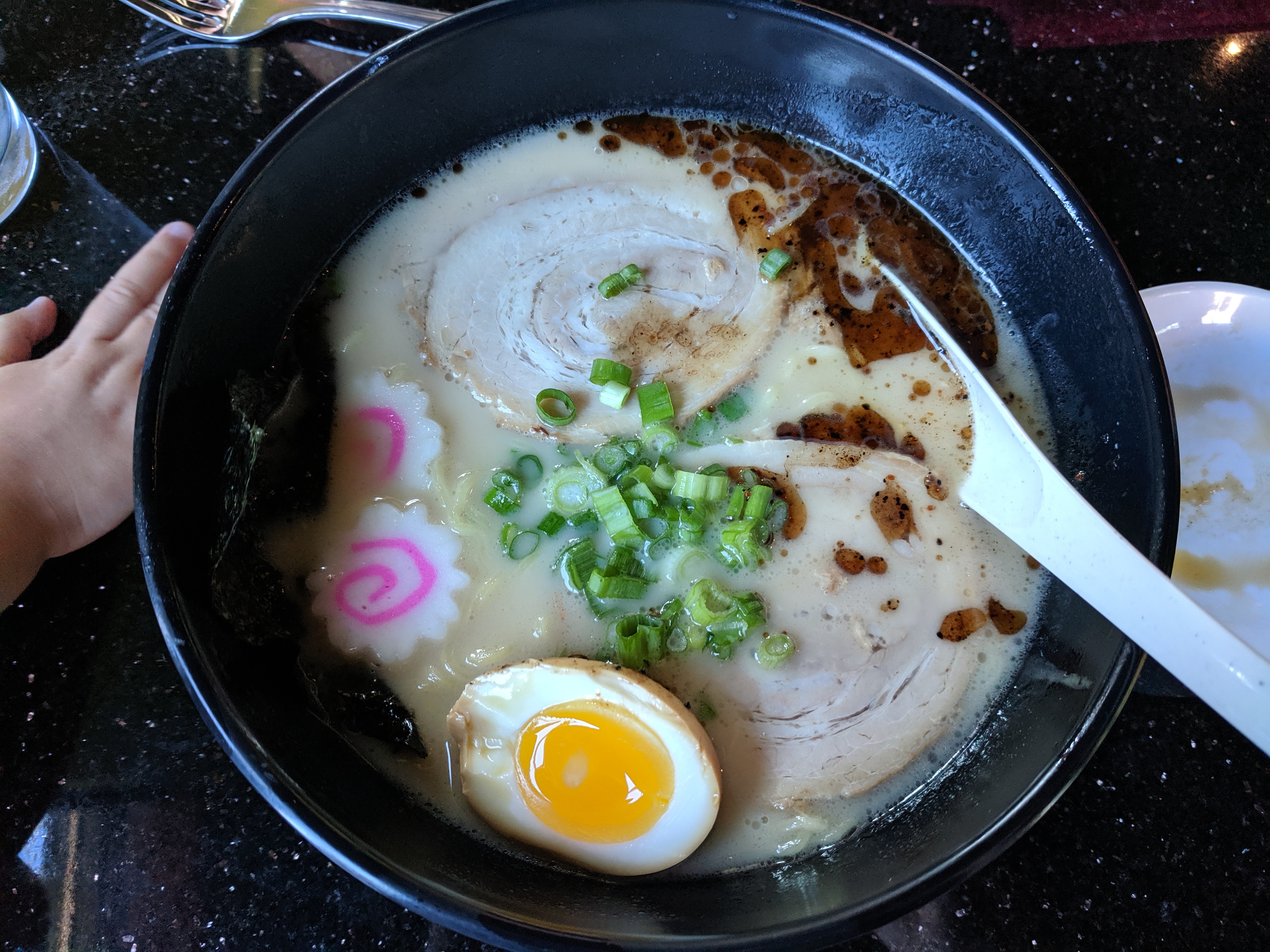 Post a comment:
0

Comment(s)
---