I finally got around to eating at Tosh's since I started this blog. I've eaten here about three or four times now and every time is a consistent experience. Tosh's Ramen is open Monday thru Thursday 11:30am-3pm, and 5-9pm. Also Friday and Saturday between 5pm-10pm and closed on Sundays. Tosh's is located at 1465 S. State Street in Salt Lake City Utah.
Atmosphere
Tosh's Ramen is located at the end of a tiny strip mall and the stores around it are usually out of business. Every time I've been here there is usually a line of people waiting to try the food. In my experience, I've had to wait 15 to 20 minutes to be seated. As you walk in, there is a sign-up list if too many people are waiting. The space is intimate and simple. There isn't much going on in terms of décor, except in front of the kitchen is the traditional Japanese "Ramen" sign that you can find all over Japan. One of the times I visited this place I heard a very cool song that I have loved ever since hearing it. Normally they just play simple pop background music.
Overall, I would give the atmosphere an eight. It wasn't too fancy, but it has always been clean and orderly. The Japanese "Ramen" sign is a cool addition especially for those that have never seen one.
Customer Service
The first time I came Tosh was the actual cook making the ramen and he treated this place like any other Japanese ramen store. He would give the greetings in Japanese and it felt very much like a street restaurant in Japanese. The servers are always respectful and courteous. They also know the ingredients in the dishes and it seemed to be this way every time I have eaten here.
The food takes about 10 minutes to come out and I have never felt bogged down waiting or rushed by anyone here. Overall, I would give the Customer Service an eight. Nothing amazing about it, but still good.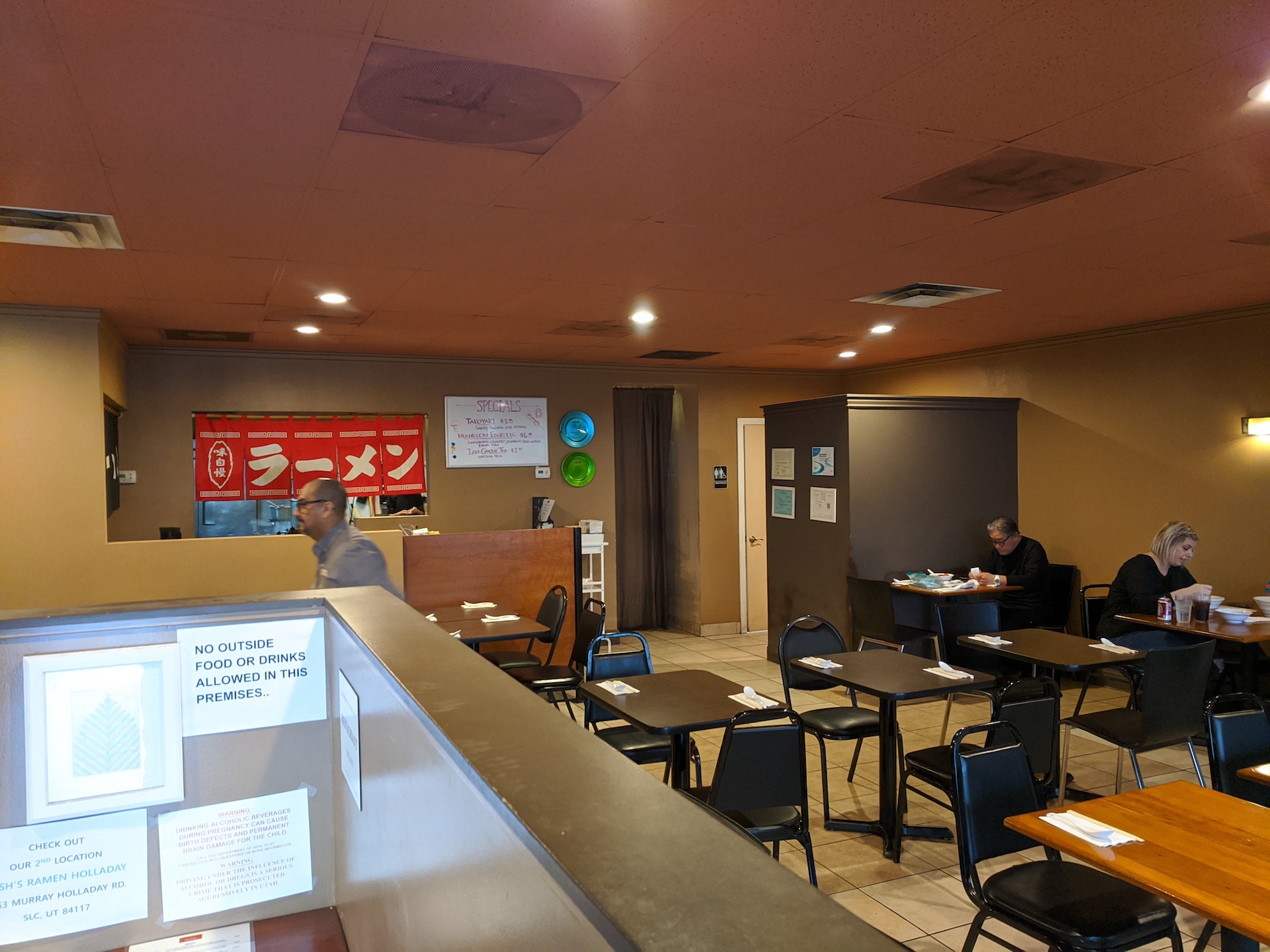 Noodles
Tosh's noodles are very typical. About 2mm thick, wavy, with a hint of yellow from the alkaline. This last visit seemed to have a ton of noodles. I could barely finish the dish because of the amount of noodles in the bowl. One thing to note is that the noodles they use are egg noodles. We were worried about the egg noodles with my daughter who is allergic so we tried their yam noodle alternative. I wasn't a fan, but others who tried it were pleased. They said it tasted like vermicelli, just took on the flavor of the broth it was sitting in.
Overall, I would give the noodles a solid eight. They were not the homemade noodles like Samurai Noodle, but they were still pretty good.
Toppings
The toppings were also very typical. There was a very large slice of meat. It was not quite as tender as I'd like, but still great and a very good size. It was mild in terms of flavor, but it complemented the rest of the dish well. The soft-boiled egg was cooked well. It wasn't too boiled, and not too runny. The only other toppings were the green onions and the bean sprouts, both of which were fresh and tasted great. Everything about the toppings were basic and traditional. No crazy additions or exotic flavors. Plain, simple, delicious.
Overall, I would give the toppings an eight. Again it was very basic. When I think of a basic bowl of ramen I think about Tosh's Tonkotsu Ramen. No need for frills or exotic flavors, just a delicious basic bowl of ramen.
Broth
I think it's here that the ramen shines. The broth was creamy and delicious. It tasted just like tonkotsu is supposed to taste. Salty and flavorful. Again this is traditionally how the broth is supposed to taste. All Tosh has been doing is creating a dish that is traditional and basic. I feel like maybe his goal was to recreate the ramen experience for anyone from Japan that needed a basic bowl of ramen. The broth fits the mold perfectly.
Overall, I would give the broth a nine. It's delicious even without extra frills. Nikko Ramen in Kaysville, has an extra kick of black garlic oil that gives it a unique taste. Tosh's doesn't have that. There is no need. It's simple and delicious.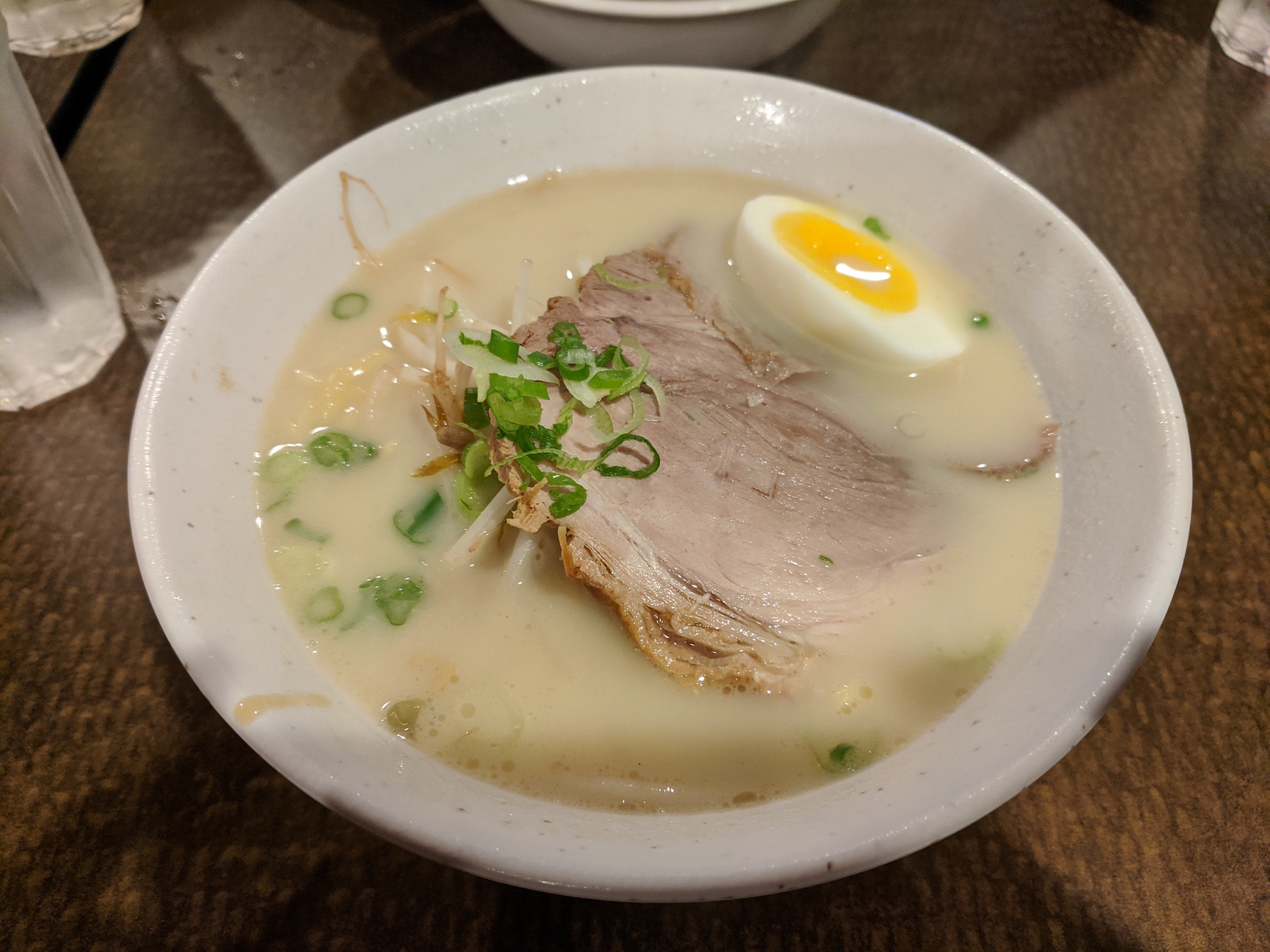 Conclusion
The entire time writing this review. I just kept thinking about how simple Tosh's ramen really is. The toppings are simple. The broth is simple. The noodles are typical. It's amazing that he has been able to recreate the Japanese taste of ramen for people here in Salt Lake. If you want the typical Japanese ramen experience, this ramen and this ramen place is perfect. If you are looking for frills and exotic flavors you won't find it here, but I would argue you don't need it.

Post a comment:
1

Comment(s)
---